When thinking about marketing you think about spending a lot of money but there are social networks that can be utilized for very effective marketing campaigns at little to no cost. It is no wonder that many individuals and small business used this type of tool because of the cost but now it has become main stream for many reasons. Let's look at a few of the big players in this industry;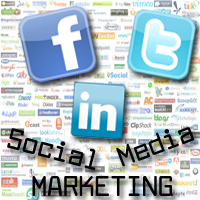 Facebook
This social networking site was established six years ago and in August of 2010 has over 500 million registered users. To put this in perspective comparatively to countries it would represent the third largest country in the world behind only China and India. This site originally started with personal users as a means of sharing personal information with friends and family and is now transformed internet usage in how information is distributed and shared. In addition to personal accounts Facebook also allows business accounts that can act as a platform for your products or services. Once a business account is established you can post services, products and discounts to a host of potential customers. While searching for products or services you can gleam additional information about a company or contacts through this network.
Linkedin
This is a website typically for professionals and a method of networking with individuals or companies. Of the Fortune 500 companies 499 have profiles on Linkedin many at the director level, even Hoovers the powerful business database has links to profiles in corporate listings. Individuals with over 20 connections are thirty-four times more likely to be approached for a job than people with less than five. When interviewing with a company and you have a contact name this is a great research tool to find out more about the individual like hobbies and sports.
Twitter
Like Facebook Twitter can be used for personal information but it can also be a media for businesses to keep there clients updated with information, release of new products and services and company news. Twitter boasts about 190 million visitors a month and about 6 million tweets per day in messages not containing more that 140 characters. When setting up your account you can select "Private" or "Public" based on your requirements. It is important to note that Twitter COO Dick Costolo stated "we will not allow third parties to inject ads into the stream" when deciding on ways to use this media platform.
When choosing a social media website to launch your marketing material it is best to review and use more than one site because there are unique differences between them. Beyond just posting information, there are other aspects like linking blogs to tweets, optimizing your profile in search engines and even increasing your credibility by being linked to other credible sites.